DOCSIS 3.1 Cable Modem Router with Wi-Fi 5 and MoCA
The CODA-4582 integrates a DOCSIS 3.1 modem with 3x3 2.4GHz 802.11n and 4x4 802.11ac 5GHz WiFi Wave 2, significantly improving the customer experience by extending the WiFi range and coverage with blazing fast speeds.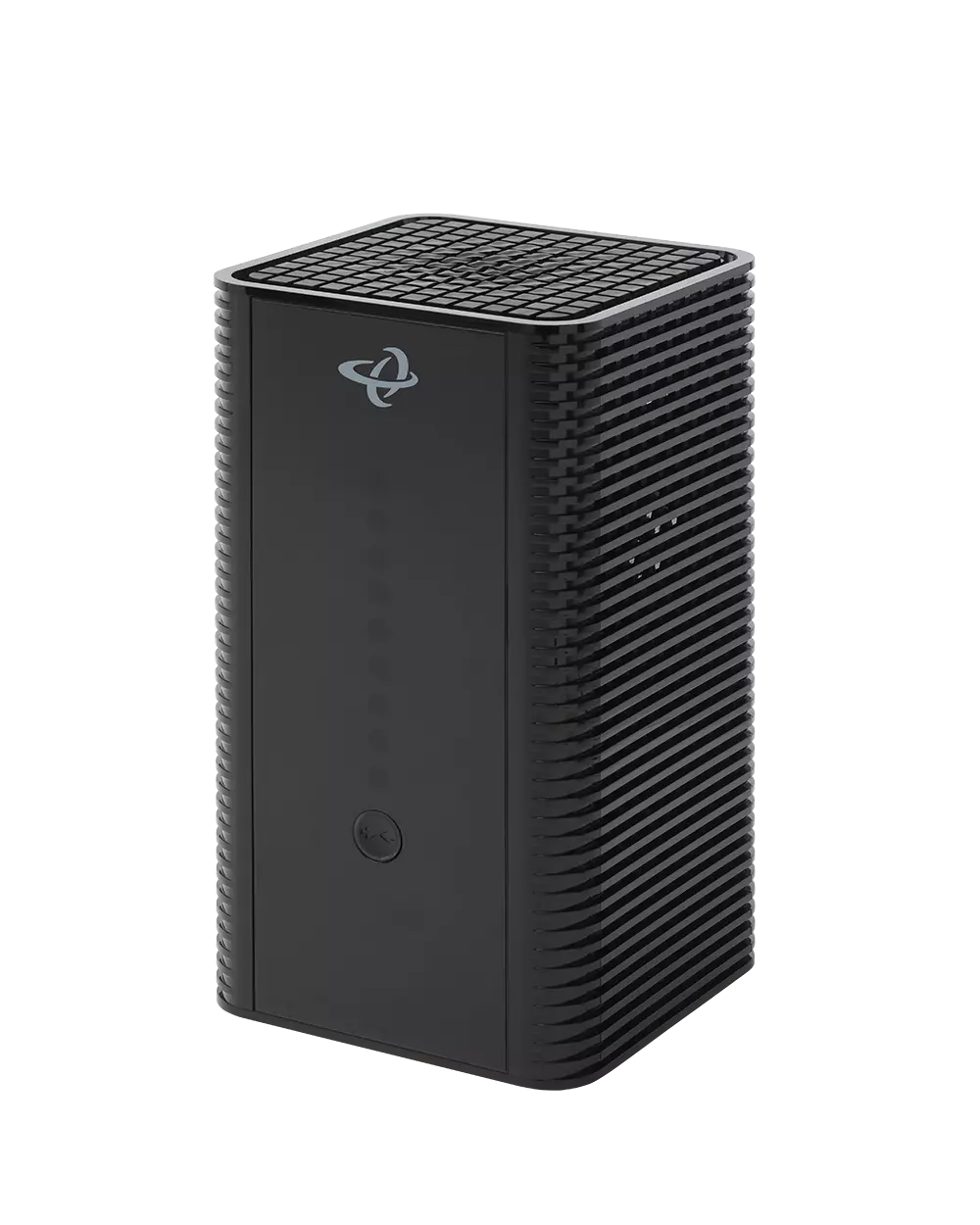 High-Performance Hub for Multi-Gigabit Internet Services
Stream, surf, and game faster than ever with the CODA-4582. With DOCSIS 3.1 (speeds up to 10 Gbps* downstream) and 802.11ac Wave 2 Wi-Fi speeds up to 2.3 Gbps, the CODA-4582 is a powerful hub for every home networking need. You get multi-Gigabit speeds and the power of five devices in one. Residential and business customers will enjoy richer ultra-HD video streaming, faster online gaming and VR applications, always reliable video conferencing and more.
DOCSIS 3.1 Certified
DOCSIS 3.1 takes Internet speeds to a new level, increasing the capacity of HFC networks by more than 50 percent and reducing latency. This means your customers can connect more devices, enjoy richer digital experiences, and get fast, reliable Internet service for all of today and tomorrow's needs.
Five Devices in One
The CODA-4582 integrates five products into a single device: a multi-gigabit DOCSIS 3.1 modem, a home router with four Gigabit Ethernet ports for blazing fast wired connections, an 802.11ac dual-band access point for superior wireless coverage and speed, integrated MoCA 2.0 for a super-fast home backbone and a DLNA Media Server with support for video, audio and image serving.
Blazing Fast Wi-Fi Everywhere in the House
Gigabit Internet service demands powerful in-home Wi-Fi. The CODA-4582 offers integrated 3×3 2.4 GHz 802.11n and 4×4 5 GHz 802.11ac Wave 2 dual-band concurrent MU-MIMO access points for superior coverage and a blazing fast, lag-free Wi-Fi experience. And with support for 802.11ac Wave 2, you get more than just ultra-fast wireless. Users will notice better performance when multiple devices are running apps simultaneously, higher signal quality and dependability.
Superior Coverage with Bonded MoCA 2.0
With integrated MoCA support, customers can easily extend their home Wi-Fi network throughout the home. MoCA 2.0 bonding provides a near-Gigabit wired backbone over the home's existing coax wiring. And Hitron's AutoSync software provides secure automated setup of MoCA extenders. 
Four Wired Gigabit Ethernet Ports
Four Gigabit Ethernet ports offer ultra-fast, reliable wired connections for the home theater or home office.
Compatible with DOCSIS 3.0
The CODA-4582 can be deployed on your current network. As a DOCSIS 3.0 modem, it offers 32 bonded downstream and 8 bonded upstream channels. When you upgrade the network to DOCSIS 3.1, you won't need to swap out customer hardware.
Easy to Setup and Manage
Installation is a snap for your end users. The built-in TFTP client automatically gets the IP address and configuration data from the network server. That means a few simple connections is all it takes to get up and running. The CODA-4582 supports pre-configured and pre-enabled Wi-Fi security via WiFi Protected Setup (WPS), allowing end users to rapidly setup a secure wireless network without manual configuration. And SNMP, TR-069 and HNAP support provide total remote control over the device for fast and effective troubleshooting.
Key Specifications
DOCSIS 3.1 2×2 multi-carrier OFDM
DOCSIS 3.0 32×8 channel bonding
Fixed 5-85MHz upstream
Wi-Fi 4×4 5GHz 802.11ac Wave 2 MU-MIMO and 3×3 2.4GHz 802.11n dual-band concurrent internal antennas
16 SSIDs (8 SSIDs per radio)
Individual configuration for each SSID
MoCA Channel bonding for highest performance
Integrated DLNA Media Server for video, audio and images
Extensive operator control via configuration file and SNMP
TR-069 and HNAP for easy setup and remote management
Supports IPv4 and IPv6
*DOCSIS 3.1 is a CableLabs standard for high speed Internet access that defines support for up to 10 Gbps downstream and 1 Gbps upstream. Actual cable operator network speeds will vary and will be less than the calculated maximum possible speeds. Actual upload and download speeds are affected by several factors including, but not limited to: the capacity of your cable operator's network, the services offered by your cable operator, cable and Internet network traffic, your computer equipment etc. Final speeds will also be limited by each device and the quality of its connection to the modem or router.
Let us tell you more about the CODA-4582 DOCSIS 3.1 Cable Modem Router with 802.11ac WiFi and MoCA.