Hitron Technologies Inc.(TWSE: 2419) – May 24, 2023 – Hitron (2419),
Intensifying climate change is spurring many countries to set a net-zero vision by 2050 and companies are also introducing green and sustainability measures as their missions. By leveraging innovative technologies to drive the development of smart technologies and sustainability, the BenQ Group, a global leader of smart solutions, will showcase 7 key smart solutions centering on the concept 'Smart+' through collaboration across 22 group partners. At COMPUTEX Taipei 2023, the Group will present smart technologies empowering sustainable cycles to create green values for customers.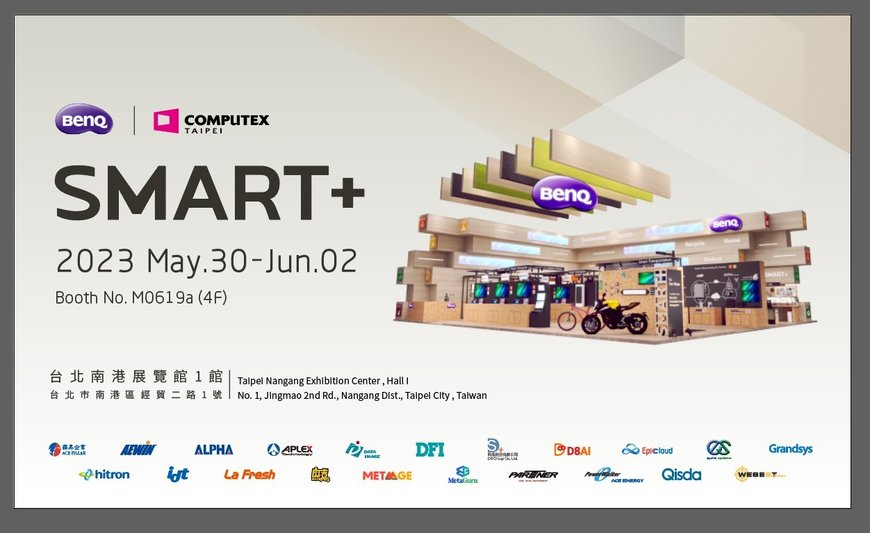 In addition, the Group has implemented the concept of sustainability for a green exhibition and designed a booth featuring content compliant with sustainability, is minimizing the use of extremely large digital tools to conserve resources and is encouraging green purchasing to promote the spirit of sustainability. The entire exhibition will observe sustainable event management system specified by ISO 20121 and aims to make the BenQ Group the world's first and only ISO 20121 certified group at COMPUTEX since the exhibition's establishment in 1981.
From exhibition design to maintenance, full compliance with ISO 20121 sustainability event management
Exhibition's is a key event to increase product exposure, identify market trends, and expand business. However, most building materials used in exhibitions are single-use and this inevitably leads to large amounts of waste after each exhibition, according to the observations of exhibition design companies. The accumulated carbon emissions generated by foreign and domestic exhibitions over a year are inestimable.
Embodying, as well as corresponding to, the essentiality of green exhibitions and corporate responsibility, for COMPUTEX Taipei 2023, the BenQ Group is adopting a design closely compliant with ESG (environment, social and government) and is follows the 3 Rs (reduce, re-use, and recycle) of sustainability when selecting decorative materials to ensure zero waste after the event.
In addition, the minimalistic booth is designed with a natural wood color, to impart the idea of sustainable vitality. Through digitizing 90% of marketing materials, sourcing 80% of decorative materials locally to minimize carbon emissions and ensuring that 70% of the booth's gifts are manufactured in Taiwan, the Group encourages all group partners and suppliers to follow the ESG goals of this exhibition, to participate in green initiatives, and to implement sustainable values.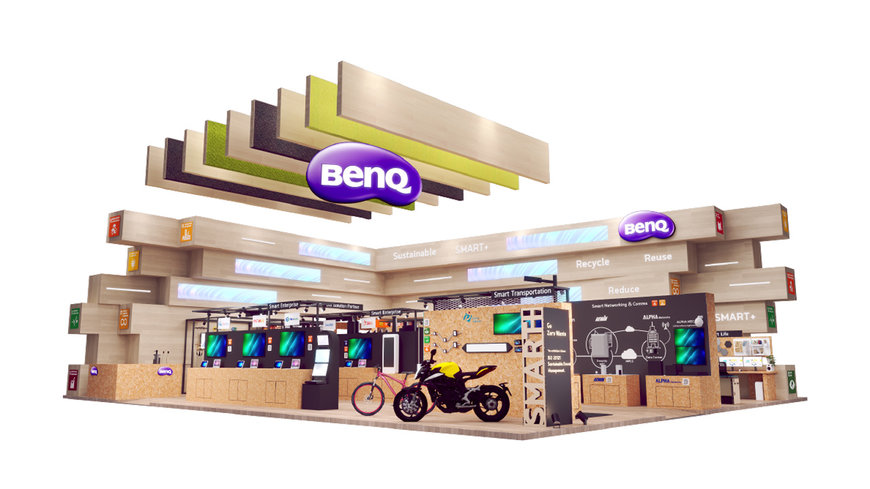 Collaboration across 22 group partners to showcase smart solutions, highlighting the spirit of innovation and sustainability
At COMPUTEX Taipei 2023, aside from incorporating the green concept, 22 group partners from the BenQ Group will also present smart solutions offering sustainable values to help customers achieve waste reduction and low-carbon operations as well as implement all UN SDGs to commit to a better future.
This year, the BenQ Group is dividing its booth into 7 smart solution sectors, including hospitality and retail, education, enterprise, transportation, information security and network communication, manufacturing, and consumer goods. Customers are implementing smartization the most quickly out of the strong demands for sustainable values. For example, for hospitality companies impacted by the pandemic and thus emphasizing environmental health as well as minimizing social contact, the Group provides an automated self-service cloud platform system. For manufacturers and enterprises with high demand for digital transformation and net-zero emissions, the Group offers embedded devices and a cloud management platform. For electric vehicles, the emerging industry that many countries consider as key for energy saving, the Group supports them with solutions combining charging stations empowered by renewable energy and AI edge computing. For education and other sectors, the Group will also display smart classrooms as well as products and applications ensuring network and information security. We sincerely invite you to visit the BenQ Group booth to explore how we can build a promising future together.
Exhibition information:
Dates & Hours: May 30 – June 2, 9:30 a.m. – 17:30 p.m.
Venue: Taipei Nangang Exhibition Center, Hall 1 (No. 1, Jingmao 2nd Rd., Nangang District, Taipei City)
Brand name: BenQ Booth No.: M0619a (4F)
About Hitron Technologies Inc.
Hitron is changing the way the world works, plays and connects. With a growing count of eleven first-to-market DOCSIS launches and powering DOCSIS 3.0 24×8, 32×8, and DOCSIS 3.1 deployments, Hitron has shipped over 40 million DOCSIS units to customers worldwide. Our leadership in broadband and Wi-Fi technology, combined with our vertically integrated manufacturing services, enable us to continually push the envelope of what's possible and deliver custom, cost-effective and scalable solutions.