One of the terms mentioned frequently while talking about cable modems/gateways with WiFi functions are OFDM and OFDMA. Those are mechanisms used for both DOCSIS and WiFi signal transmission. In this article, we are going to talk about what they mean and the difference. 
What is OFDM?
OFDM stands for Orthogonal Frequency Division Multiplexing. It is a form of multi-carrier modulation, in which multiple subcarrier signals with overlapping spectra are transmitted to carry data parallely across multiple channels. For example, if you are using a cable eMTA with WiFi 5 supporting OFDM, the voice and data signals will be sent and received at the same time
What is OFDMA?
OFDMA stands for Orthogonal Frequency Division Multiplexing Access. It is an extension of OFDM. When it comes to WiFi 6 (802.11ax), this technology is critical for more efficiency and lower latency for networking.
Features and advantages of OFDMA:
Data packets are combined into a larger one and delivered to multiple users at once, reducing bandwidth workload and improving efficiency

Increase transmission performance for long frames with lower latency

Increase the number of devices connected to the router

Reduce power consumption
As OFDMA combines transmissions and sends frames to multiple endpoints simultaneously, it is ideal for things like IoT devices, video, online gaming, and automation applications.
Here's a diagram to explain their difference: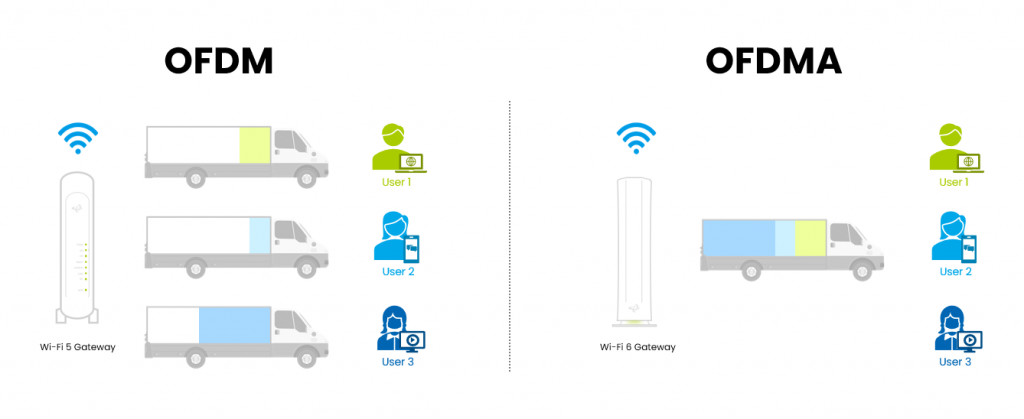 Hitron offers whole-home solutions including WiFi 6 gateways and WiFi extenders, to enhance your networking experience. If you would like to learn more about our solutions, please contact our Sales team.